Easy Vegan Strawberry French Toast Casserole Recipe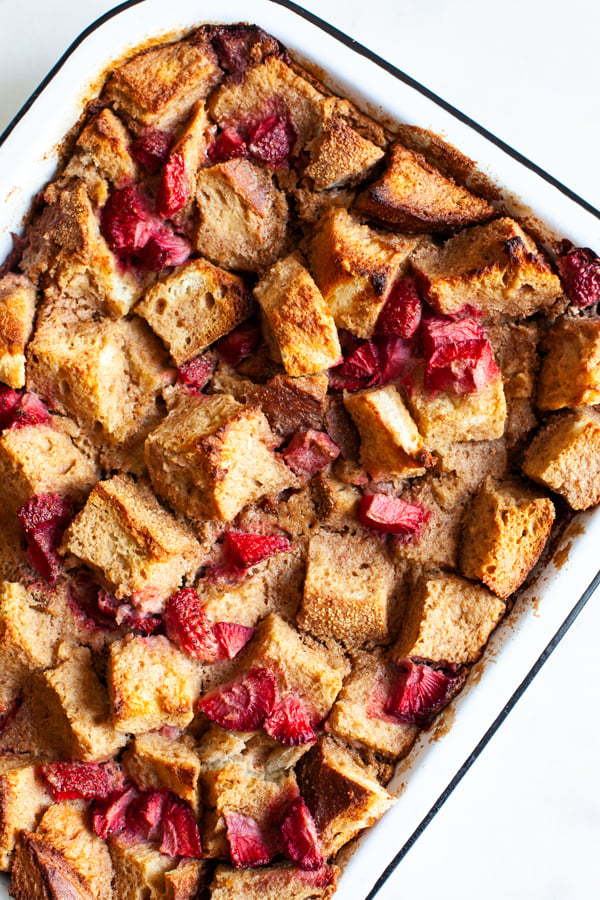 Easy Vegan Strawberry French Toast Casserole Recipe
This vegan berry French toast casserole is a perfect illustration of the timeless cooking rule that simpler is better. #frenchtoast #casserole #breakfastcasserole #breakfastrecipe #veganbreakfast #vegan #easybreakfastrecipe #frenchtoastcasserole #strawberry
INGREDIENTS:
1 small (14-16 ounces) boule French style country bread, pullman white, sourdough, or vegan challah, cut into large cubes (or half of a 2-lb loaf)
1 1/2 cups chopped strawberries, <strong>or</strong> another berry/fruit of choice
2 1/4 cups non-dairy milk of choice
1/4 cup cashew or almond butter (substitute another nut/seed butter or a heaping 1/3 cups raw cashews if you have a powerful blender)
1/4 teaspoon salt
1/2 teaspoon cinnamon
1/3 cup maple syrup <strong>or </strong>6 pitted, medjool dates
2 tablespoons ground flax meal
INSTRUCTIONS:
Preheat your oven to 350F and lightly oil a 9 x 13 baking dish. Place your cubed bread and chopped strawberries into the baking dish.
Blend the non-dairy milk, cashew butter, salt, cinnamon, syrup or dates, and flax meal in a blender till smooth. Pour the this mixture over the bread and berries. Allow the bread to soak up the liquid for at least 30 minutes. You can also prep the casserole the night before breakfast, cover it, and let it sit in the fridge overnight.
Bake the casserole for 45-55 minutes, or until the top is golden and the bread cubes are getting a little brown and crispy at the edges. (Check the casserole at 35 minutes, and if it's browning too quickly, you can cover it with foil and continue baking for 15 more minutes or so.) Allow the casserole to cool for at least 15-20 minutes before serving.
The casserole can be frozen for up to 6 weeks. Leftovers will keep in an airtight container in the fridge for up to 5 days.
The post Easy Vegan Strawberry French Toast Casserole appeared first on
The Full Helping
.